Light Duty Slotting Machine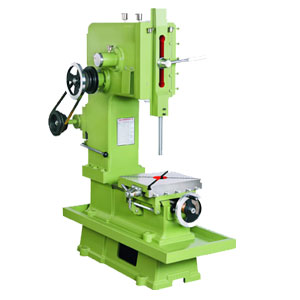 HPSM' Light duty slotting machine is being prepared with genuine components with its accurate size as well as with latest technology and all the components are being inspected at every stage of production by our qualified staff to maintain quality forever and we want to achieve satisfaction through our quality products.
Standard Equipments
Boring Bar
Motor Pulley
Counter V – Belt
Extra Equipments
Rotary Table with 36:1 Ratio Diameter – 250 mm
Electric Motor
Switch
True Chuck
V – Belt
Technical Specification
Model
HPS-150
HPS-250
Adjustable Stroke
10 to 150 mm
10 to 250 mm
Longitudinal Movement
200 mm
230 mm
Cross Movement
110 mm
110 mm
Speed Adjustment
3 speed
3 speed
Ram Adjustment
150 mm
250 mm
H.P.
1 H.P.
1.5 H.P.
MODEL: HPS – 150
A – 210 mm
B – 310 mm
C – 280 x 335 mm
MODEL: HPS – 250
A – 330 mm
B – 410 mm
C – 280 x 335 mm