All Geared Head Lathe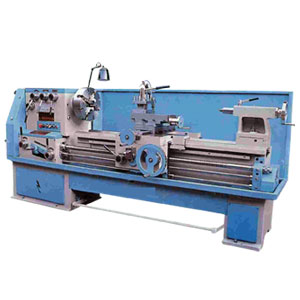 One of the leading manufacturer, supplier and exporter of all geared head lathe machines we understand the customer values and their exposers. With the help of our experienced engineers, we are able to design and develop a wide range of All Gear Head Lathe Machine. Our Machine is best acclaimed for components like industry driving costs, stringently tried, quality guaranteed, and so on. Gears are made from alloy steel & are hardened & precision ground.
STANDARD ACCESSORIES
Bed
2V & 2 flat type made of close grained cast iron. Robust and heavily ribbed walls with wide openings to facilitate easy flow of chips. Guideways are hardened and precision ground stopping.
Feed Box
Universal feed box to culmetric Module inch & D.P. Threads.
Safety Devices
Emergency switch for instantaneous thermal overload relay for electrical system. Mechanical over load tripping for feeds. Shear key for end gears & shear pin lead interlock for simultaneous start of feeds & thread cutting wipers for guide ways.
Main Spindle
Made from alloy steel hardened & ground. Supported by precision taper roller bearings.
Head Stock
All geared type. Gears are made from alloy steel & are hardened & precision ground.
Tail Stock
Moves on "V' & flat guide of the bed. Cross movements is incororated for turning of slight tapers.
Saddle
Provided with full length cross slide & taper wedge to adjust sliding clearance.
Special Accessories
4 jaw Independent Dog-Chuck with Back Plate
3 Jaw Self Centering Chuck with Back Plate
Quick Change Tool Post
Telescopic Taper Turning Attachment
Electric magnetic Brake
Splash Guard
Rear Tool Post
Rapid Traverse of Slide
Machine Lamp
Steady Rest
Follow Rest
Face Plate
Tool Post Grinder
Revolving Centre
Standard Equipement
Electric Motor with Control Panel
Headstock's and Tailstock's Dead Centre
Thread Dial Indicator
Quick Change Gear Box
Square Tool Post
Driving Plate
Set of Spanners & Keys
Instruction Mannual
Technical Specifications (IN MM)
Model
Model 200
Model 300
Model 400
Model 450
Model 500
Model 600
Capacity
Height of centre
200
300
400
450mm
500mm
600mm
Swing over bed
400
600
800
880mm
980mm
1150mm
Swing over cross slide
260
325
530
610mm
660mm
760mm
Swing in gap
600
865
1200
1300mm
1350mm
1600mm
Bed width
315
375
460
510mm
560mm
660mm
Distance between centries
750 mm, 1000 mm, 1500 mm
1000 mm, 1500 mm, 2000 mm, 2500 mm, 3000 mm
1500 mm, 2000 mm, 2500 mm, 3000 mm, 3500 mm
2000mm,2500mm ,
3000,mm,3500mm,
4000mm,4500mm,5000mm
2500mm
3000mm 3500mm,
4000mm, 4500mm,
5000mm, 6000mm
2500mm, 3000mm, 3500mm,
4000mm, 4500mm,
5000mm,6000mm
Headstock
Main spindle speeds no.
8 Nos.
8 Nos.
9 Nos.
8 Nos.
8 Nos.
8 Nos.
Optional
16
16
18
25-475rpm
25-475rpm
25-475rpm
Range of Spindle
45-1000 RPM
30-720 RPM
30-720 RPM
25-75rpm
25-75rpm
25-75rpm
Speeds (RPM)
52 mm
62 mm
90 mm
52 mm
62 mm
90 mm
Spindle Bore
3mt
4mt
5mt
105mm
105mm
105mm
Threads & Feeds
Metric Threads
0.5-6 mm
1-14 mm
1-14 mm
1-14mm
1-14 mm
1-14 mm
Withworth Threads TPI
4-60 TPI
2-30 TPI
2-30 TPI
2-30 tpi
2-30 tpi
2-30 tpi
D.P. threads
6-80 dp
6-80 dp
6-80 dp
Thread of Lead Screw
4 TPI
2 TPI
2 TPI
2 tpi
2 tpi
2 tpi
No. Of Feeds
30
30
30
30
30
30
Range of long feed
0.20 to 3.0mm/rev
0.20 to 3.0mm/rev
0.20 to 3.0mm/rev
Range of Transverse feed
0.03 to 0.50mm/rev
0.03 to 0.50mm/rev
0.03 to 0.50mm/rev
Tailstock
Tailstock Sleeve Taper
3 mt
4 mt
5 mt
5 mt
5 mt
5 mt
Spindle diameter
50 mm
62 mm
75 mm
95mm
95mm
95mm
Electricals
2 HP 1440 RPM 3 Phase
3 HP 1440 RPM 3 Phase
5 HP 1440 RPM 3 Phase
7.5 hp 1440 rpm 3 ph
10hp 1440 rpm 3 ph
10hp 1440 rpm 3 ph