Horizontal Spindle Surface Grinding Machine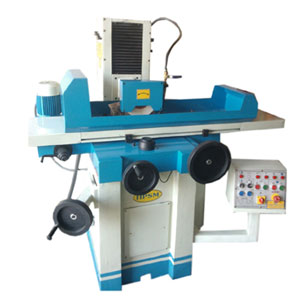 HP Singh Machinery Pvt.Ltd is one of the leading expertise in manufacturing and exporting Grinding Machines. We provide these machines in the market at very economical price. Horizontal Spindle Surface Grinding Machines are ideal for components requiring extremely accurate and highly finished flat surfaces, tool room applications.
General Future of 6-8-10-12 Series
Introduction
Enlarged, honeycomp-ribbed column, especially suitable for heavy duty grinding.
Guide Ways
These high precision surface grinding have been specially devoloped and improved in recent years. The saddle resets on precision and scraped V and Flat way. These guide ways and grinding wheel head lubrication system is independent
Hand Wheel
Zero-Setting Slip-Rings with vernier on vertical handwheel and vernier on crossfeed handwheel
High Precision Cartridge Wheel Spindle
High precision cartridge type spindle is supported by 2 preloased precision angular contract ball bearing and driven by V3 class motor through flexible coupling that allow accurate grinding performance
Enlarged Column and Base
Enlarged column and base create high atability and rigidity. The height of column is increased up to 16″ (400 mm) grom table surface to the center line of spindle
Longitudinal & Cross Drive
The longitudinal Movement is driven by (Electrical / Hydraulic) for 2A, 3A Series the cross movement is driven by motor for accurate increment feeding
Technical Specifications (IN MM)
Descriptions
Model
HPS-618 A, 1A, 2A, 3A ED/HD
HPS-820 A, 1A, 2A, 3A ED/HD
HPS-1024 A, 1A, 2A, 3A ED/HD
HPS-1224 A, 1A, 2A, 3A ED/HD
Table Size
150 x 450 mm (6″ x 18″)
200 x 500 mm (8″ 20″)
250 x 600 mm (10″ x 24″)
300 x 600 mm (12″ x 24″)
Max. Grinding Length
Longitudinal
475mm (19″)
525 mm (21″)
625 mm (25″)
625 mm (25″)
Max. Grinding Width
Crosswise
160mm (6¼")
212 mm (81 / 2″)
262 mm (101/2″)
312 mm (12½ )
Max. Distance from Table Surface to Spindle Centerline
250 mm (10″)
400 mm (16″)
450 mm (18″)
Standard Magnetic Chuck Size
160 x 350 mm (6″ x 14″)
200 x 450 mm (8″ x 18″) (250 x 500 mm 10″ x 20″) 300 x
600 mm (12″ x 24″)
Longitudinal Movement of Table
Hand wheel per rev
100 mm (4″)
Table speed elect. autofeed
Max. travel elect. autofeed
475 mm (19″)
525 mm (21″)
625 mm (25″)
625 mm (31″)
Max. travel hydraulic
Table Speed infinitely variable Hydraulic
50HZ, 5-23 m/min, 60HZ, 5-28 m/min
Cross Transverse Travel
Max. Auto transverse travel
160 mm (6¼)
212 mm (8½ )
362 mm (10½ )
312 mm (12½ )
Handwheel per revolution
5 mm (0.2″)
Handwheel per graduation
0.05 mm (0.0012 ½ )
Auto transverse increment
1-10 mm (0.04″ – 0.4″)
Wheelhead Vertical
Handwheel per revolution
1 mm (0.05″)
Handwheel per graduation
0.01
Grinding Spindle Drive
Power Rating
1 H.P.
2 H.P.
Speed
50 HZ, 2850 RPM, 60HZ, 3450 R.P.M.
Standard Grinding Wheel
Diameter
178 mm (7″)
203 mm (8″)
Width
12 mm(½" )
19 mm (¾ ")
Bore
31.78 (1 ½")
Hydraulic Motor
Power Rating
1 HP x 6 P
2 HP x 6 P
Longitudinal Feed Motor
Power Rating
1 HP x 6 P
1 HP x 6 P
2 HP x 6 P
Floor Space
Length x width x height Total space required
1370 x 1020 x 1845 mm (54″ x 40″ x 73″)
2030 x 1370 x 11630 mm (80″ x 54″ x 64″)
2450 x 1550 x 1630 mm (96″ x 61″ x 64″)
2500 x 1680 x 2500 mm (98″ x 66″ x 98″)
Packing Dimensions
L x W x H
1270 x 920 x 1820mm (50″ x 36″ x 72″)
1680 x 1270 x 1650 mm (66″ x 50″ x 65″)
1780 x 1320 x 1650 mm (70″ x 52″ x 65″)
1780 x 1400 x 1700 mm (70″ x 56″ x 67″)